Brooks Williams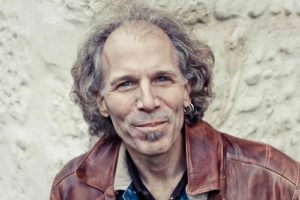 In celebration of his November 2016 UK Tour, Inside The Blues, with Guy Davis, Brooks Williams has released an album of some of his favourite blues songs. Recorded "old school" with just voice and guitar (acoustic, resonator and cigar box), live in the studio, using vintage mics and a creaky chair, Brooks' Blues is a fitting homage to the music that has inspired this Statesboro, Georgia native since, well, the day he was born. Williams says: "I'm pretty sure my mother and father weren't thinking anything about the blues when I was born in Statesboro, Georgia. And they certainly wouldn't have known anything about Blind Willie McTell's song, Statesboro Blues, which put Statesboro on the blues map forever. Little did they know what a legacy they were handing me."
Brooks' Blues represents Williams' unique relationship with the blues, a relationship based not only on a 'feel' for the music, and a technical prowess with the music, but also an intimate knowledge of the place from which this music has sprung. His soulful arrangements are fresh and re-visioned, but they are also as familiar as a front-porch conversation.
"Blues great Willie Dixon once said, "The blues is the roots, the rest are the fruits." I've built a 25-plus CD career based on the fruits," says Williams. "Now's the time for the roots."
Track listing:
1. From Four Until Late (2:16) (Robert Johnson)
2. My Babe (2:26)  (Willie Dixon)
3. Trouble In Mind (2:45) (R.M. Jones)
4. You Never Can Tell (2:58)  (Chuck Berry)
5. Save The Bones (2:14) (Danny Barker)
6. Backwater Blues (4:17) (Bessie Smith)
7. On The Rolling Sea (3:38) (traditional)
8. Statesboro Blues (3:44) (Blind Willie McTell)
9. Mother Earth (2:49) (Peter Chatman aka Memphis Slim)
10. Sitting On Top Of The World (3:05) (traditional, arranged Brooks Williams)
11. Hesitation Blues (3:16)  (traditional, arranged Brooks Williams)
12. I Will Do My Last Singing (4:34) (Rev. Gary Davis)
Produced by Andy Bell and Brooks Williams.
ARTIST WEBSITE