J Wagner
Biography
A native of Albuquerque, New Mexico and one time park ranger of the Joshua Tree National Park, J. Wagner weaves stories filled with red rocks, creosotes, and sagebrush of the American Southwest into tangible and intimate songs.
He is well known for writing songs that other performers cover. His music has been covered and recorded by a variety of notable musicians such as Gregory Alan Isakov, Brandi Carlile, Victoria Williams, 3 Penny Acre and many countless others. Along with being a regional finalist in the Kerrville Songwriting Competition, his song "If I Go, I'm Goin" was in season four of Showtime's television series "Californication". He now resides in central Texas where the Austin American Statesman refers to him as "The number one best bet" for acoustic music in Austin and the Dallas Morning News labels him as "A Texas Folk Music Staple". He performs often throughout the Southwest and is currently touring to support his new album "Disappear" .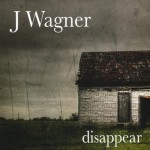 J. Wagner's fourth album "Disappear" is a collection of eleven songs that takes you down the desert highway, pass the sage brush and the fields of grain, and then lets you whisk like smoke and speed off with the hills behind you. Wagner has a keen interest in the human condition and his lyrics take a curious glance at both the individual who loves, who feels alone, and the culture we all inhabit. "Disappear" is a lyrical-based album that moves like desert wind, so much so, you can practically smell the cacti and creosote on the rain.