The Sommers Rosenthal Family Band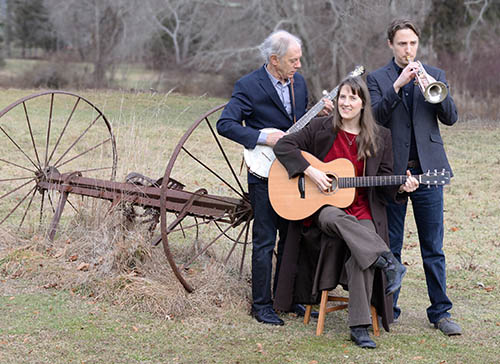 The Sommers Rosenthal Family Band is one of the most exciting and diversely talented family bands on the scene today. The group plays an eclectic mix of folk, bluegrass and jazz stylings, featuring close vocal trios and adventurous instrumental solos.
Phil Rosenthal is known to audiences world-wide as the former lead singer and guitarist of the seminal bluegrass band, The Seldom Scene. He is also highly regarded as a songwriter whose works have been recorded by Johnny Cash, Bill Monroe, Nick Cave and many others. He has been called "a roots music master" by Billboard magazine.
Naomi Sommers is a gifted vocalist with a tone and style of singing that is completely singular.  Her beautifully warm and rich voice, combined with her straight forward and honest delivery create a sound that is truly captivating and timeless.  Sing Out! magazine has called her singing "as beautiful as you are likely to hear… with lyrics that read like good poetry."
Daniel Rosenthal is an accomplished young trumpeter. Conservatory trained, he has performed with such jazz legends as Steve Lacy, Bob Brookmeyer, and Anthony Braxton, among others. He is a member of the Grammy nominated jazz and latin group, the Either/Orchestra, with whom he has recorded and toured throughout North America, Europe and Africa.  All About Jazz has called him "a young trumpeter with a bright future."
On their new album, Down the Road, the group revisits several classic bluegrass tunes written by Phil in the 1970s and 1980s, giving them new and exciting arrangements. The group also bring new life to traditional songs such as "Worried Man Blues",  "Midnight Special", and "East Virginia Blues".  The Sommers Rosenthal Family Band have been called "the real deal… just plain timeless" by the Hartford Courant. They will be performing throughout the Northeast and beyond in support of the new release, with more to come!
ARTIST WEBSITE